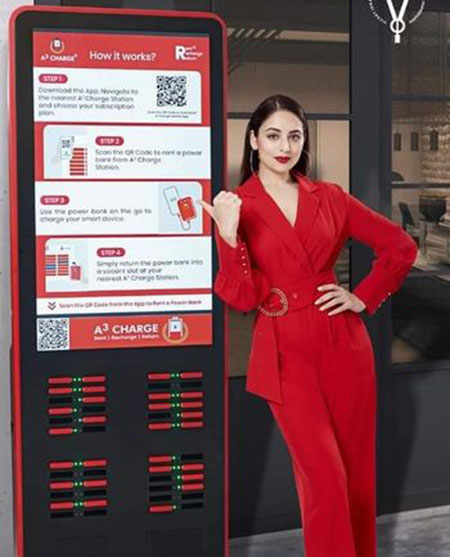 Top 7 Best Shared Power Bank Rental Apps Likely to Become Giants
We have seen the rapid rise of the shared power bank brand in China. In just 5 years, countless brands and capitals scrambled to enter this market. After fierce competition, the top 4 shared power bank companies in the Chinese market currently occupy more than 90% of the market share, and they have been on the trend of focusing on the head.
In addition to the Chinese market in the world, shared power banks are also developing rapidly, but they are still in the early stages of emerging markets. At present, many far-sighted investors have entered the shared power bank project and created their app brands. We surveyed various shared power bank companies outside of China and picked out 7 best shared power bank apps that have the potential to become giants. If you also want to enter the shared power bank project, these market leaders may be your primary competitors.
1. A3 Charge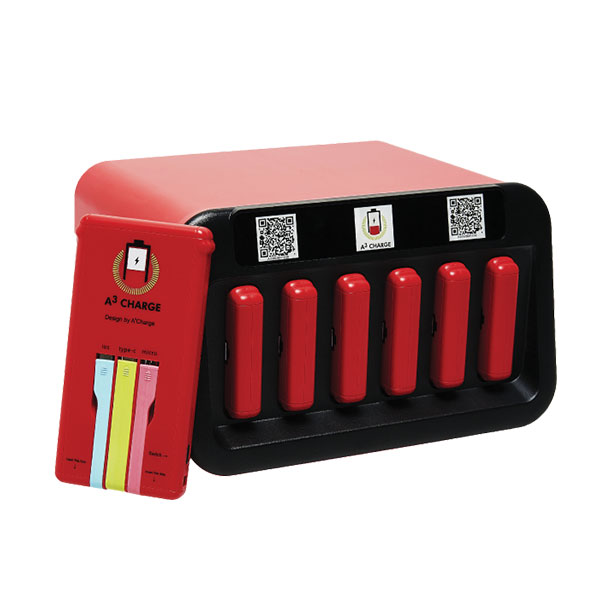 A3 Charge is a Delhi-based company that provides power bank rental service that allows you to charge your devices through a portable rental charger, which can be returned after use by paying a minimal subscription fee.
The company is a brainchild of three industry experts – Manu Jain, Founder & Managing Director; Sameer Papneja, Co-founder and COO; and Sahil Gupta, Co-founder and CTO. The Co-founder Sahil Gupta says that "A3Charge rental power banks are lightweight, affordable, compact, and extremely stylish to carry. Power stations can be easily located in all prime locations in Delhi NCR. Distinct characteristics like durability, portability, multiple cables, fast charging, and low-range cost, fuel their need among tech-savvy consumers. In case of a prolonged power outage or an unstable electricity supply, a rental power bank is an ideal option, preventing the device from turning off. Power banks have been used for years to charge the devices in countries such as India, where power outages are a major issue."
A3 Charge has recently completed a successful year in the industry and has 15,000+ regular users currently. And A3 Charge has gained nearly 100K followers on social media, the most impactful brand in India or the global market.
2. BatteryXchange
BatteryXchange was co-founded in 2019 by Desmond Wiggan and Aubrey Yeboah. It's a USA-based rental platform of portable batteries within the sharing economy for businesses. BatteryXchange has developed a portable battery charging platform. The BatteryXchange power bank can be placed in public places, including universities, healthcare facilities & event venues. With the BatteryXchange app installed on their phone, users can rent a portable charger from a kiosk machine and return it to another once finished.
The company has raised $225K in funding in the first 3 rounds. Their latest funding was raised on Jan 17, 2022, from a Grant round. The Co-founder Yeboah said. "As innovation continues to grow and develop, we want to be a part of that growth, and mobile charging is unique, and it's something that people need."
3. InstPower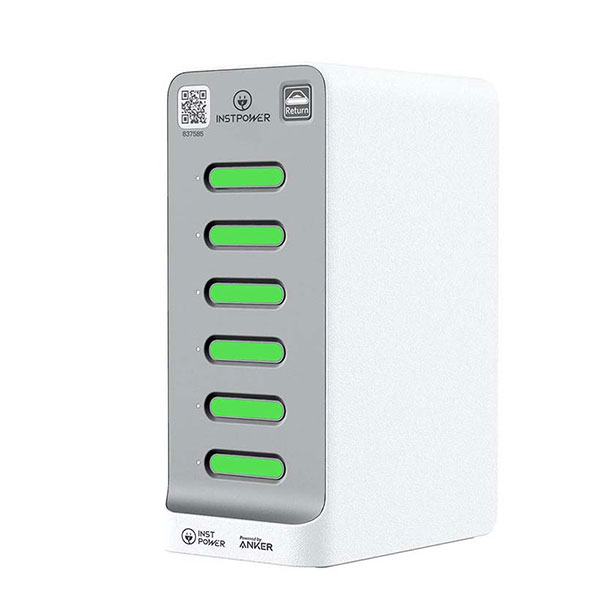 InstPower, founded in Hong Kong in 2019, is the leading global power bank-sharing company committed to providing customers immediate charging anywhere, anytime for their mobile phones, tablets, earbuds, e-cigarettes, laptops, or other electronic devices. Instpower has launched its business in 13 countries and is backed by two charging-industry heavyweights, Anker and Sunwoda. The entrepreneurial team comes from the head brand "JieDian" of China's shared power bank.
InstPower has also s teamed up with Binance Pay and Alchemy Pay to enable their users to pay with cryptocurrency for power bank devices at over 14,000 locations worldwide. But with the current crypto bust situation, we'll see how it goes.
4. Brick
Brick is a Stockholm-based startup bringing charging into the era of sharing economy. Brick is an app that solves the problem of electronics running out of battery. Download the Brick app and find the nearest Brick station on the map, then rent a power bank (with cables) to charge a phone, tablet, headphones, or whatever is running out of battery. Return the power bank to any Brick station so you can charge on the go. Brick's power bank sharing network is available at partners like Åhlens, ICA, Starbucks, Cafe Opera, Hard Rock Cafe, Hornhuset, Texas Longhorn, and Sturecompagniet.
Brick was founded in 2019 by Emil Esselin. He said, "Many of our partners, who in many cases are bars and cafes, had a hard time running their company during the pandemic. After a slow start, we saw a boom in our business during 2021 and have since quickly expanded to several new markets".
5. Naki Power
Naki Power is a Belgian pioneer company in on-the-go charging devices. Naki Power is one of the largest power-sharing systems in Europe, operating in five countries with 1,500 active power stations where consumers can rent portable chargers.
The company's power bank rental offers freedom and convenience for people as they can charge their phones anywhere, anytime without having to leave their device behind or worry about cables and aims at creating a world where people have the opportunity to rent and return, to use a good only for the time they need it, enabling users to be free from phone battery constraints and no longer worry about being cut off from their phones and essential applications.
Naki Power has raised a total of €2.9M in funding over 3 rounds. Their latest funding was raised on Oct 1, 2020, from a Seed round.
6. ChargeFon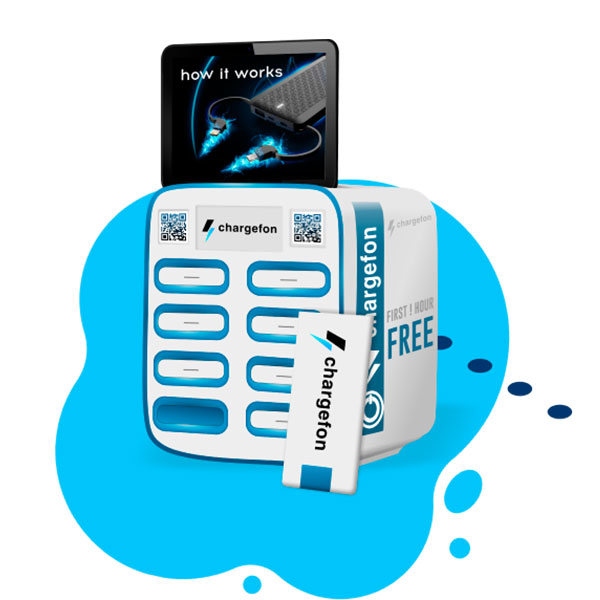 Chargefon headquarters is in North Miami Beach, Florida. It is a company that provides stations with portable power banks for cell phones that you can rent for 1-24 hours and return it later at any station. Currently, Chargefon has mounted 750 machines across 30 counties in 15 states. Approximately 300 of these locations are in Florida. Overall the company serves upwards of 23,000 active users.
At the helm of Chargefon is Vladimir Korobeynik, a serial entrepreneur from Russia. Three years ago, Korobeynik came to Miami. At that time, he was searching for a new business idea, having successfully exited IT sector businesses and outsourcing technical workers.
"We are excited to continue attracting new customers and to bring our service to more locations," said Korobeynik, signaling that expansion to Latin America is in his crosshairs. "Everyone is afraid of being stuck without a phone, so our service is essential."
7. SARZ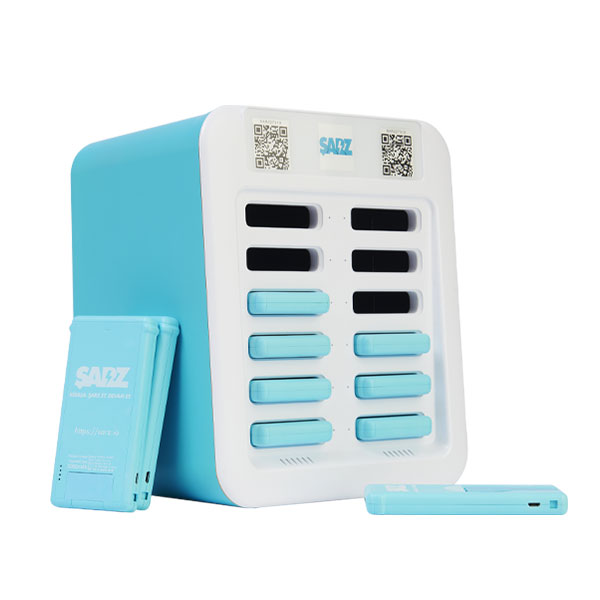 SARZ is Türkiye's largest powerbank rental service. With the increase in mobile usage times, it will no longer be a problem for the devices we use to run out of battery during the day. The SARZ shared power bank can easily charge your phone, tablet, or earbuds with either Micro USB, USB-C, or iOS ends on the go.
Established in 2019, SARZ stays low profile online, but it's the biggest shared power bank brand in the Middle East. It is growing rapidly and has already distributed thousands of power ban stations to Turkey and nearby countries.
Conclusion
ChargeEight is a top power bank rental business one-stop solution supplier. We offer both hardware manufacturing and software development services. Several of the shared power bank brands in the list are partnering with ChargeEight. Moreover, we can offer valuable operation experience with our clients based on actual overseas power bank rental business operation.