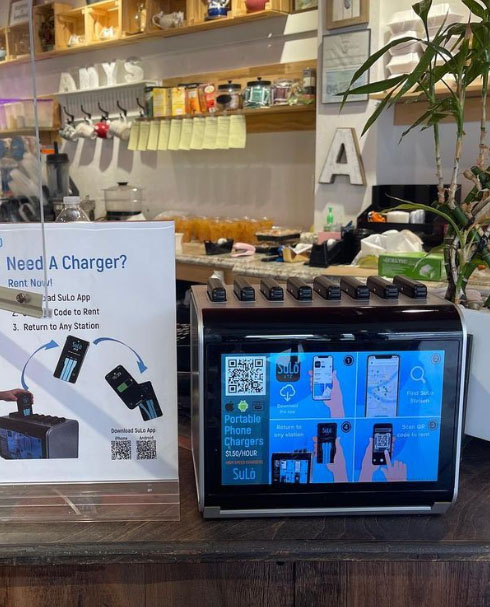 How to Enter Shared Power Bank Industry, Create Your Brand or Franchise?
Running a power bank rental business can bring you passive income, but not every shared power bank investor can make money easily. There are two ways to run a power bank sharing business, build your brand and be a Network Partner. Before launching a power bank sharing business, you need to do market research and figure out what business model is fit for you based on your budget.
Build Your Shared Power Bank Brand
It means you're in control of the charging brand, you can decide where to distribute kiosks, price the charging fee and deposit. But you need to build everything including power banks and stations production, power bank sharing application, software for the charging stations and backend manage system.
However, you don't need to worry much since we can get you covered. ChargeEight is a one-stop solution provider for shared power bank business, with years of experience in this industry, we can not only provide software and hardware, but we're also the only firm that provides business operation guidance to our clients.
Franchise Shared Power Bank Brand
Another way to enter the power bank rental business is to franchise other shared power bank brands. It means you're buying other shared power bank stations, then distributing them to end venues. In this way, you'll save a lot of time and less investment. But obviously you will get less payment.
ChargeEight has helped more that 300 shared power bank brands worldwide, including renowned A3 Charge in India, BatteryChange, Sulo in the United States, Sarz in Turkey, etc. If you want to be a network partner of them, we'd really glad to give you a referral.
Business Development
In power bank rental business, the power bank station owner needs to distribute their power bank stations to different places like stores, restaurants, traffic spots, etc. Business development is the process of negotiation with store owners, restaurant owners, then place power bank stations to these places. If you're looking for a job in sharing economy, Business Developer could be a good consideration.
Business Owners
There are many other opportunities brought by power bank rental business. If you're a business owner, or have human resources with them, you can negotiate with a shared power bank brand, to place their stations in your store. That can not only drive you more customers to your business via power bank sharing app, but also can extend customers' dwell time in your store. A win-win situation for both you and shared power bank owner.
Moreover, if you really have good resources on chain stores, crowed places like night club, bars, clubs. Then the best way for you is to do the business yourself.
Conclusion
Shared power bank business is one of the few sharing economy projects that can quickly turn a profit, you can enter the industry based on your budget and position. With ChargeEight's support and well operation, you'll earn your position in this rising field.